Workshop France followed by a familiarization trip - Germany (Frankfurt)
Within the context of Workshop France, organised by Atout France Germany, the Paris Ile-de-France CRT was the guest of honour for this first edition which took place in Frankfurt on 16 May.
Description
The third largest group of international clientèle for the destination with more than one million tourists, and an increase of 3.8% in terms of overnight stays, the German market is a high potential market given the country's positive economic results.
Objectives :
Regain the German market
Develop a programme around the theme of Napoleon among German tourism professionals
PARTNERS PRESENT : Centre des Monuments Nationaux, Château de Fontainebleau, the Rueil-Malmaison tourist office, Tour Montparnasse, Hôtels de Paris.
Meetings with 120 professionals there we held in the form of workshops. In advance, specific presentations and workshops led by the Atout France team in Germany made it possible to better understand the structure of the market and its specific needs.
Following the workshop, the evening reception began with a speech from François Navarro, Managing Director of the CRT, with a focus on the bicentenary of Napoleon's last campaign in France and the cultural and tourist sites linked to this theme.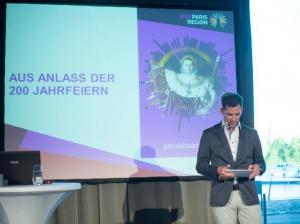 This theme was honoured through the entire evening: photo booth, Roses handed out by Napoleon, quiz with lots to win and a trip up for grabs thanks to our partners: Voyages-sncf Deutschland GmbH, Hôtels de Paris, Paris Museum Pass, Tour Montparnasse, Centre des Monuments Nationaux, Château de Fontainebleau, the Rueil-Malmaison tourist office.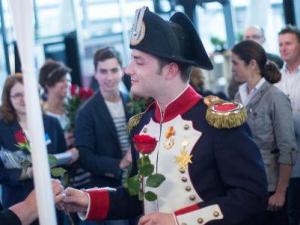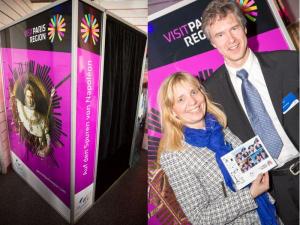 Following the workshop, a three-day familiarization trip in Paris Ile-de-France was organised with ten tour operators from the German market, on the theme of Napoleon, Joséphine and the Parisian art of living.
On the programme: Guided tour of the Napoleon sites in Paris from Pont des Arts, on board the Paris Trip open-top bus, a visit to the Hôtel national des Invalides and the Eglise du Dôme, a cabaret evening at Mugler Follies, the Arc de Triomphe, Château de Malmaison, an evening reception at the Ciel de Paris, a trip to the 59th floor of Tour Montparnasse and a trip to Château de Fontainebleau and gardens.
Copyrights : ©Atout France Allemagne et CRT PIdF