Trade Show Industrie Paris
Type :

Fair

City: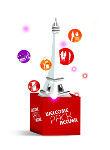 INDUSTRIE is one of the 22 trade shows that will benefit from the PARIS REGION WELCOME PACK in 2016
Visitors and exhibitors at INDUSTRIE will also be able to enjoy, free of charge, reception services by our hosts and hostesses at the mobile desks that are located in the various terminals of Roissy CDG airport, transfers aboard shuttle busses equipped with free Wi-Fi and additional on-site services at Paris Nord Villepinte.
INDUSTRIE strives to offer a wide selection of solutions for SMEs, mid-cap companies, and multinationals. From equipment to products and related services, the most ideal conditions are met to make a factory productive and competitive. INDUSTRIE freely shares its resources and know-how with visitors as part of its mission:
To generate business for exhibitors through showcasing their equipment and products
To support visitors in their search for new processes to increase their production
Everything is done to encourage meetings around strong themes: Innovation, Training, and the Factory of the Future.
The exhibition, held in Paris on even years and Lyon on odd years, brings together the largest companies and confirms its place as a major event by drawing 1,000 exhibitors and 25,000 visitors.
In 2016, INDUSTRIE will be in Paris from the 4th to the 8th of April and will feature 1,000 exhibitors for 5 days of business where the latest innovations will be on display.
Free shuttle bus – Shows and Congress Welcome Pack
From Roissy Charles-de-Gaulle Airport to Paris Nord Villepinte Exhibitions Park
The 4th and 5th of April: from 8h30 to 11h30 with departures every hour
The 6th and 7th of April: from 8h30 to 11h30 with departures every 30 minutes
The 8th of April: from 8h30 to 11h30 with departures every hour
Shuttle bus stops:
Terminal 1, Gate 8 departures level
Terminal 2D, Gate 9
Terminal 2F, walkway between T2F and T2E

From Paris Nord Villepinte Exhibitions Park to Roissy Charles-de-Gaulle Airport
The 4th of April: from 16h to 18h with departures every hour
The 5th and 6th of April: from 15h to 18h with departures every 30 minutes
The 7th of April: from 16h to 19h with departures every 30 minutes
The 8th of April: from 15h to 17h with departures every hour
Shuttle bus stops:
From the North of the hall 5A
NEW FOR 2016
Breakfast pastries served free of charge at CDG throughout the duration of the show from 8h30 to 10h (only while stocks last)